Climb and Paraglide, Far North Liverpool Land
After our expedition in 2006, we fell in love with Greenland and vowed to return one day. In April/May 2012 we went back to not only to tackle unclimbed mountains, but also fly from their summits. This trip was perfect for combining climbing with paragliding, in a remote and extreme environment far from civilisation.
In April 2012 we flew to the airstrip of Constable Point (Neerlerit Inaat) in East Greenland. Some of our bags didn't make it, so we had a few days to wait until they arrived, but in this time we got to see the Aurora Borealis, slightly subdued because of a bright moon and not the darkest sky, but exciting nonetheless. Being there in Spring meant we could travel over snow, and in the tradition of early explorers, we travelled by dog-sled, heading north from Constable Point to far North Liverpool Land. We were dropped off two days later and continued into a side valley, skiing and hauling our food and equipment in pulks. We set up a base camp in the middle of the glacier surrounded by unclimbed peaks.
Mountain ranges abound in the area, and far North Liverpool Land has snowy peaks with easy ski ups, to icy mixed terrain with more technical climbing, and even a few steep granite walls. We picked out peaks that we could climb or ski carrying our paragliders, but looked like there might be a suitable launch site at the summit. We made first ascents of seven previously unclimbed peaks, which ranged from easy walk-ups or ski ascents, to slightly more technical routes on mixed snow and rock. We carried our paragliders on all our ascents and managed to fly from four of these peaks. Two peaks we reclimbed just for the fun of flying down.
It's hard to describe how amazing it was to fly down. First there was the anticipation of not knowing if the summit would be suitable to launch from, then the excitement of finding a domed snowy area facing into a slight breeze that made launching a dream. Then the flight - skirting along the peaks and ridges, looking down on our route taken, our tracks in the snow, and our tiny camp in a vast icescape, and having the biggest landing area you could possibly imagine! We'd just try to land near our skis so we didn't have a big trudge to get back to them. Flying down certainly reduced our climbing time, and we'd usually be back at camp by a reasonable hour. Not that daylight hours were an issue, as day by day it progressively got lighter, by 15 minutes a day!
Polar bears inhabit the region so we carried all the precautionary equipment to deter any bears looking for a meal. This included a rifle, flares, perimeter alarm fence for around the tent, and bear pepper spray. Although we came across polar bear tracks in the snow, including some fresh tracks around a previous camp of ours, we luckily didn't encounter any face to face! There was also an Arctic Fox that we never saw, but when we were away from camp, he'd come investigating our camp leaving his tell-tale footprints as well as pee and poop.
Temperatures never went above a few degrees below zero, and got down as cold as -28ºC. In our side valley we were very protected from the winds, and we spent four weeks in glorious, mostly still weather, climbing and skiing from our base camp. The thing that struck us both about our location and the cold temperatures, was that it was the most intense silence we had ever experienced - there was absolutely no sound what-so-ever. It was truly amazing!
After the privilege of calling that place home for those weeks, we skied back down the Klitdal Valley hauling slightly lighter pulks. This valley is orientated north-south which the cold north wind rocketed down, sometimes very strong, and we also had white-out day. So after seven days of skiing over some pretty harsh sastrugi, and a couple of tent-bound days, we got back to Constable Point and the shocking plunge back into civilisation.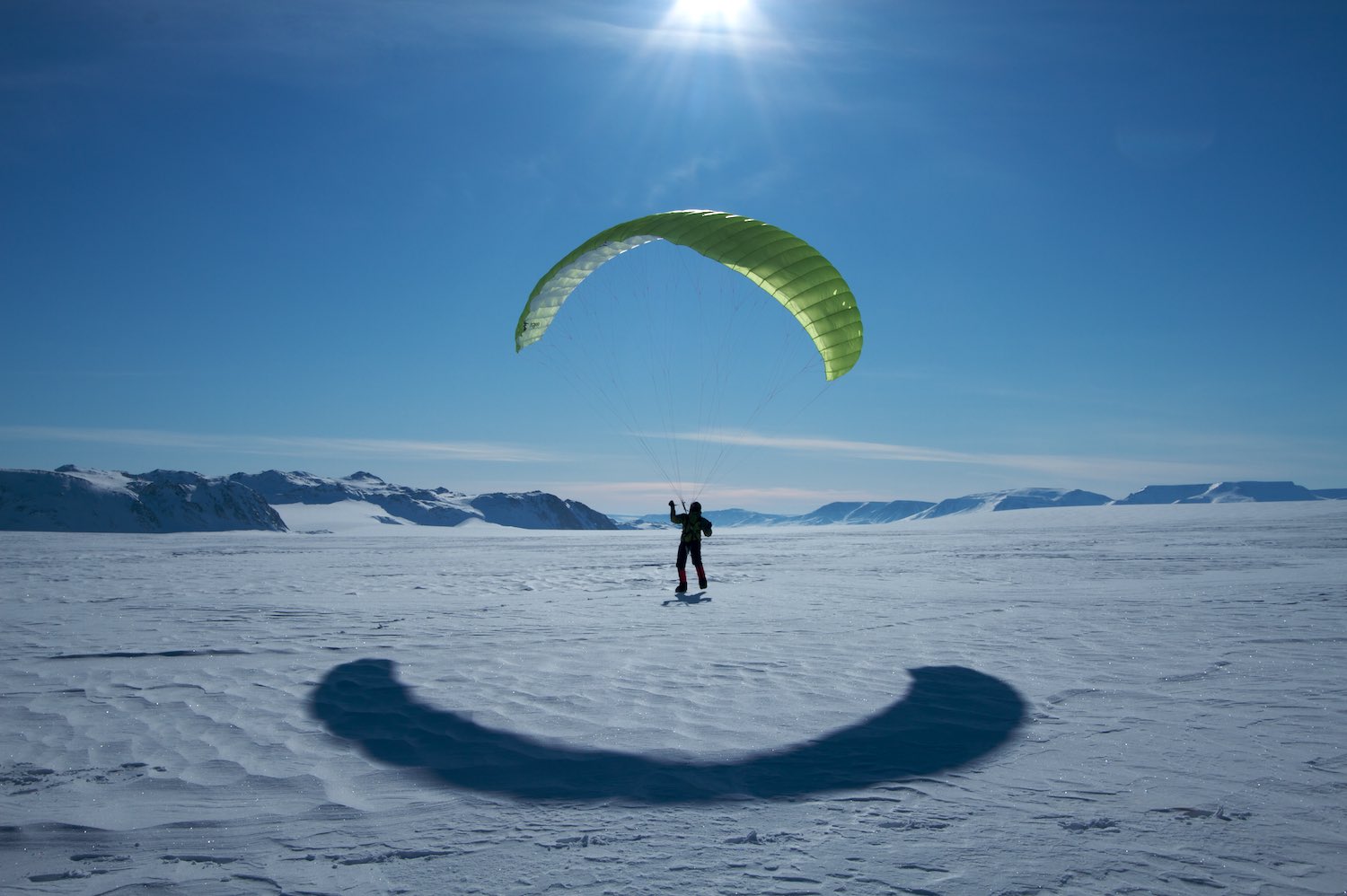 Facts
Where
71° 27' N; 21° 58' W, about 65km north of Constable Point in East Greenland, and about 600km north of the Arctic Circle.
First Ascents
Mt Mighty*, 1001m ASL
Castle Peak*, 744m ASL
Kagoo Peak*, 899m ASL
Dome Peak, 860m ASL
Dome Nunatak*, ~660m ASL
Longridge Peak, 958m ASL
Diamond Peak, 883m ASL
(*including paragliding descents)
 
Natasha made a film about this trip, called 'Resounding Silence'. The 16min film was a finalist in many film festivals around the world including the Banff Mountain Film Festival in 2013.
Other Expeditions
Other Pages