Experiences & Lessons on El Capitan
Although not an expedition, our six-week climbing trip in Yosemite in California, USA was significant for us in several ways. We had only done a little bit of aid-climbing and all with our friend Chris Fitzgerald - an ascent of 'Ozymandias' on the north face of Mt Buffalo in Victoria; the chossy 'Big Glassy' in the Wolgan Valley - but these are babies compared to the 1000m granite monolith of El Capitan in Yosemite. So firstly, this was definitely going to be a steep learning curve for us in terms of big wall climbing and logistics, but secondly, we also climbed El Capitan with a paraplegic woman!
We went to Yosemite with Chris, and another friend, Nathan Kukathus, did a bit of free-climbing with them as well as an attempt on one of El Cap's classic routes 'Mescalito' (which was thwarted due to a few reasons, but especially as Nathan was still recovering from a major injury). After Nathan and Chris left, we did more free-climbing as well as climbed an aid route on the shorter but overhanging Leaning Tower over two days. We were in Camp 4 campground one day when a rather unlikely looking fellow with a strong UK accent asked us if we wanted to climb El Cap with him and his girlfriend. We wondered if he was a bit of a looney, especially after he said "You might have seen my girlfriend around camp - she's in a wheelchair". But speaking to people we knew in camp, we learnt that the 'looney' was Andy Kirkpatrick, one of UK's boldest aid climbers and alpinists. We were informed that if we climbed with him, we'd be sure to learn from one of the best. Andy's girlfriend "in the wheelchair" was Karen Darke who'd become a paraplegic in a climbing accident 15 years previous, which made climbing El Cap quite a big deal and a scary proposition for her. Although Andy was considering climbing El Cap on his own with Karen, they decided that having some help was going to be much faster and give them a better chance if getting to the top.
Andy piggy-backed Karen up to the base of El Cap on his own which was a massive undertaking over loose scree, and considering she weighs close to 70kg! We lugged the rest of the gear up to the base of Andy's chosen route 'Shortest Straw' (A4 5.7). He chose this route as it doesn't get as much traffic as the more popular routes, is quite overhanging which would be easier for Karen when she is jumaring the ropes, and this part of the wall is shorter at about 600m. It's also a bit closer to the descent track which would make the hike down a bit easier. As Andy started up the route with Karen belaying him, we sorted Andy's gear - a conglomerate of climbing gear, food, clothing and other stuff thrown haphazardly into haul bags which took us ages to sort. This was an omen of things to come... the route is quite hard (which we were disappointed about as we didn't think we'd be able to lead any of the pitches) and combined with the huge clusterf%#@ of gear and trying to haul enormous loads, the going was quite slow. As a not-so-popular route, the belays didn't have the most bomber anchors we would have liked - when there's four people and about 150kg of gear hanging on one good bolt, a piton, and a rivet, it does make one nervous! So we ended up sleeping one pitch away from Andy and Karen so we weren't all relying on the one anchor. We also discovered Andy had tried to lighten the load by getting rid of quite a bit of our water which, determined by our slow speed, we estimated we actually did need. After some helpful passerby yelled up to us, "Your system sucks!" that was the final straw on the 'Shortest Straw' and we bailed.
There was disappointment all round and although Karen was scared on the climb and relieved to be down, her disappointment was dominating her feelings. After some discussions about improving our methods and teamwork, we decided to have another go, but this time, on the more popular (and better bolted!) 'Zodiac' (A2 5.7, 16 pitches). Before Andy and Karen came up to the base of El Cap, we carried gear up and got a head start on the route, happy to be able to do some of the leading, and we fixed ropes to the top of the second pitch. Once we all got on the route, things definitely ran smoother than our first attempt, and our systems were a lot more organised. Andy lead from here on as he was faster than us and speed was important as Karen could only be on the wall for no more than four days - there are just certain things that can't be done on a big wall! So one of us would second and clean the pitch, and the other would lower out the haul bags and help Karen organise jumaring her rope (she used a mechanical advantage system). One of the things we needed to do at every belay was to put out and pack up a portaledge for Karen to lay on. There was certainly a lot for us to do and we were always busy. However we also had heaps of laughs with both Karen and Andy, especially as Andy does comedy and is very good at telling a funny tale.
Late on the fourth day on the wall, the wind was picking up and the weather was changing so we gunned it to the top, completing the last pitch in the dark. 'Zodiac' has one of the best top-outs on El Cap - the wall goes from a slight overhang to an abrupt flat top. When Karen got to the top, Andy couldn't pull her over the edge by himself so she had to wait with half her body on top of El Cap and half hanging down for at least 20 minutes, until Gemma got there and helped pull her over. We slept on the top and overnight there was light snowfall. Getting down was a bit of an epic, with some snow showers making the slabs treacherous for Andy piggybacking Karen, and we had to lower them on several sections as well as Andy abseiling with Karen at a couple of steep walls. But it was a happy foursome who finally made in down.
After this ascent of El Capitan, any aid climbing logistics was simple in comparison!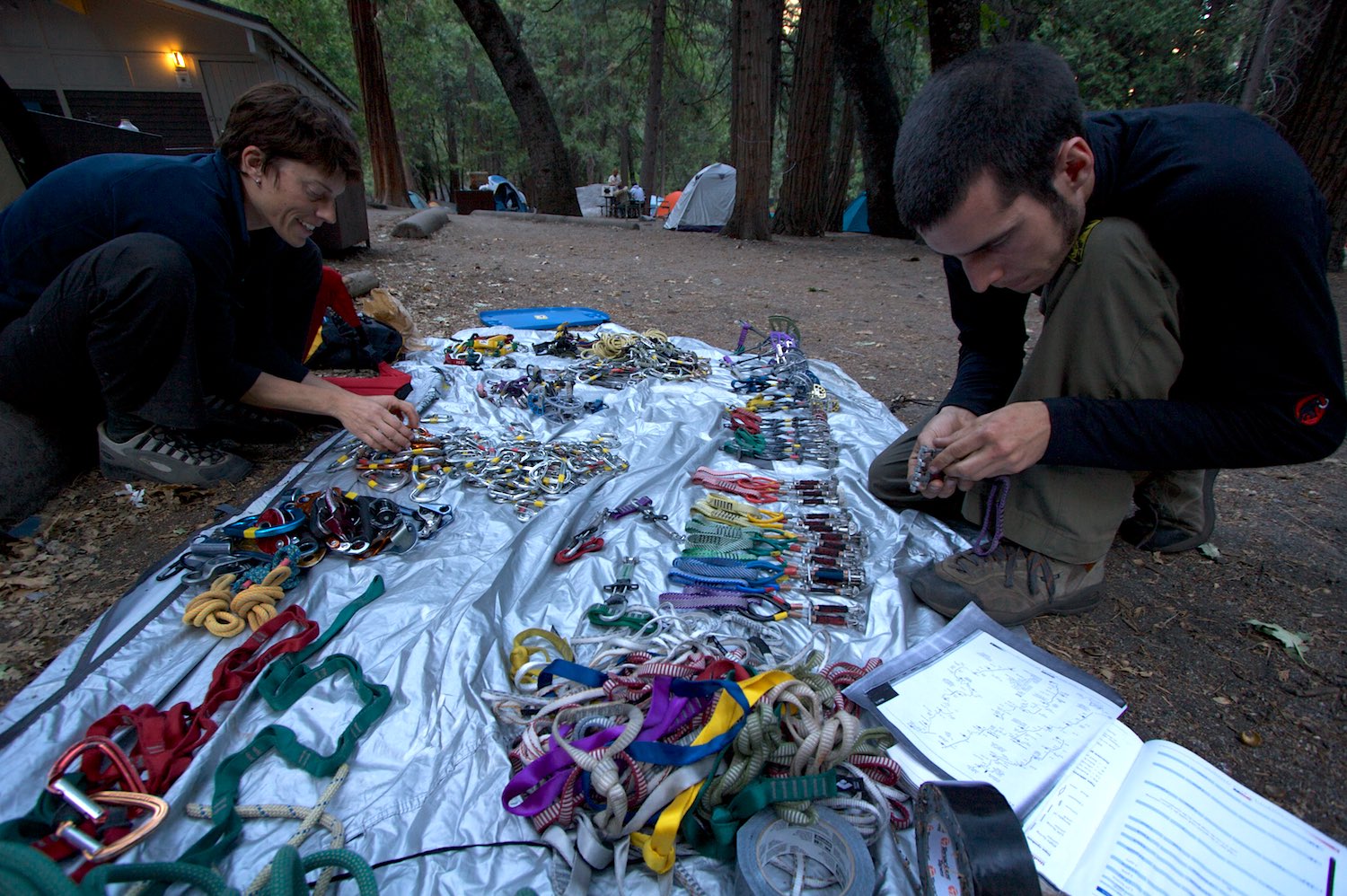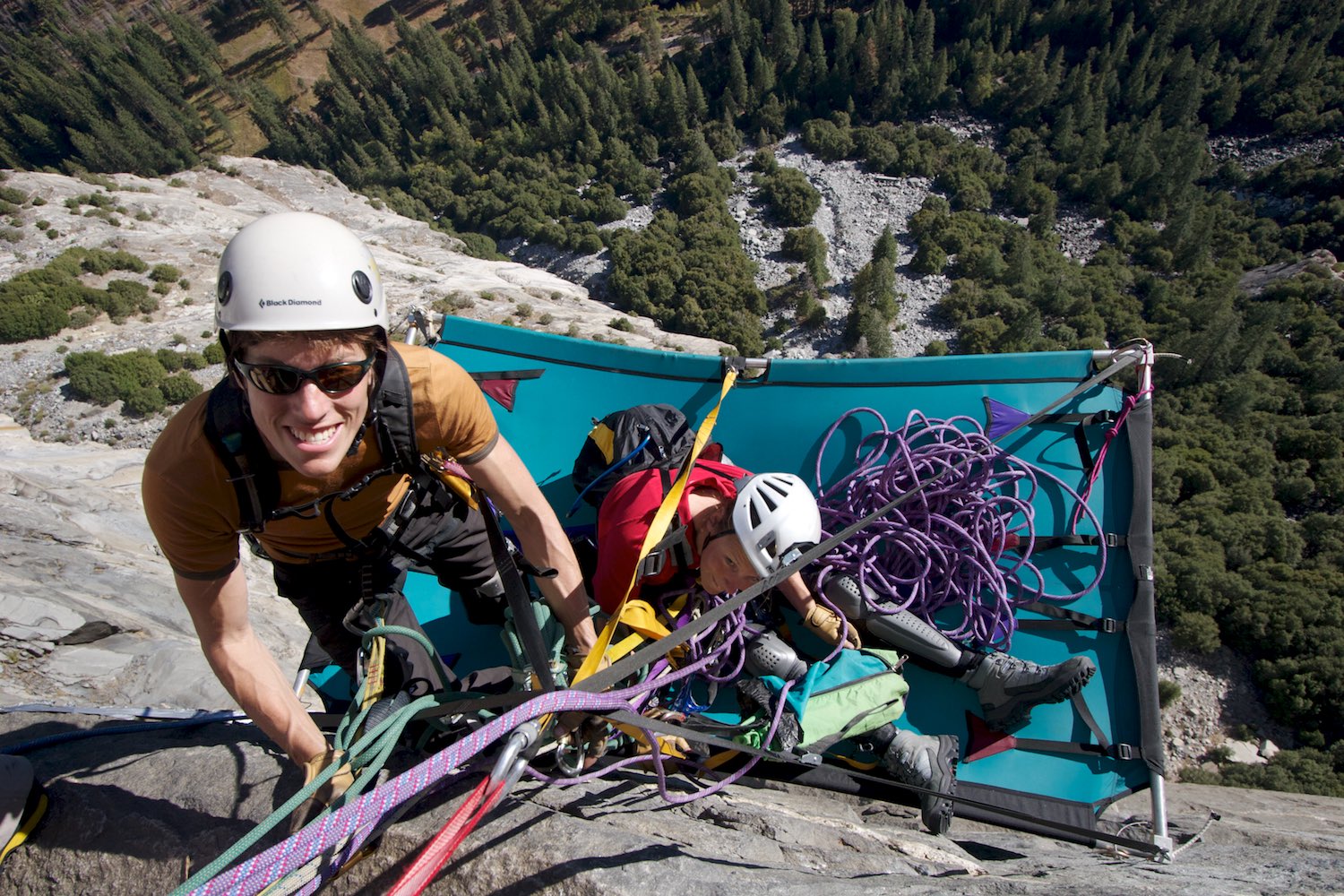 Other expeditions
Other Pages